Ebba Heuman was born in 1979. She grew up in the countryside in southern Sweden. Since she was little she has always had a flair for drawing and started at an early age to enjoy observing and depicting her surroundings. After having finished school at the age of eighteen Ebba moved to Italy to pursue her studies in Italian. The natural choice was Florence in Tuscany, a city known for its great collections of Renaissance art and splendid architecture.
She took an intensive language course and in her spare time she would stroll the city. She visited the art school Charles H. Cecil Studios which is located on the Oltrarno side of the river in a beautiful early nineteenth century atelier. Her fascination urged her to apply and she enrolled, soon becoming aware that this school could offer a kind of knowledge and teaching that corresponded to her own inclinations. The studio continues the tradition of portrait painting which
derives from the Italian Renaissance and Titian, and has been kept alive by artists such as Velazquez, Van Dyck and Sargent. After the first year, which is dedicated to drawing, the students study the art of oil painting. They are taught to paint from nature, to see the whole rather than the piecemeal and to appreciate the beauty of nature.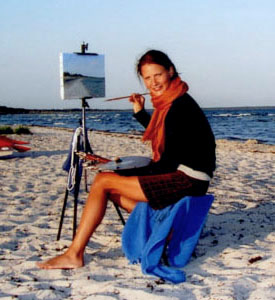 Since then Ebba has lived alternately in Italy and Sweden. In addition to the three years at Charles H Cecil Studios she studied Italian and Art History at the University of Lund and at the University of Stockholm. She wrote her final essay on the Swedish nineteenth century portrait painter Anders Zorn and has a B.A. in History of Art. She speaks English, German and Italian fluently. Currently Ebba spends most of her time in Sweden but often travels to do commissions or to paint landscapes.
For further information or inquires:
Contact Ebba Heuman.